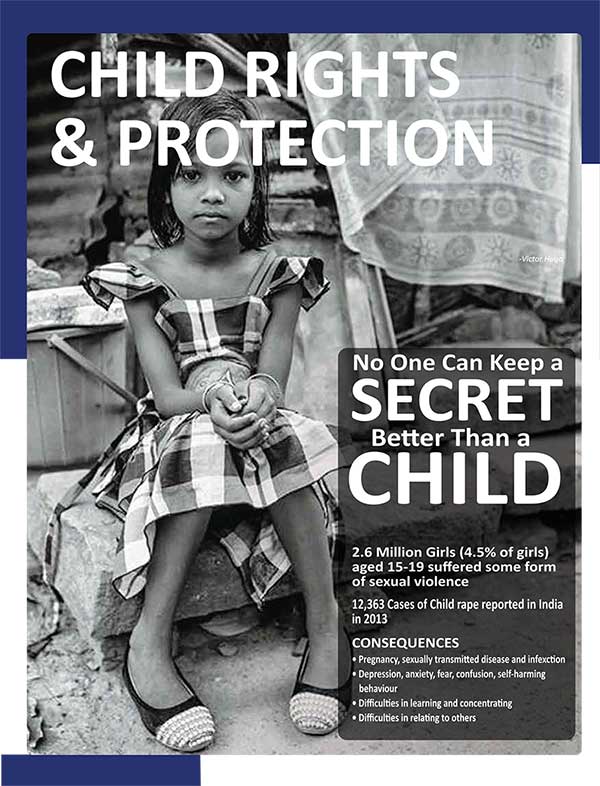 Children constitute principal assets of any country. Children's development is as important as the development of material resources and the best way to develop national human resources is to take care of children. India has the highest number of children in the world. The total population of India as recorded by Census 2011 is 1.2 billion (which around 40% of the nation's population) where neo natal death is 35% and 40% child malnutrition is also prevalent. The vulnerable categories of children include orphans, abandoned and destitute children, missing or run-away children, street children, children of sex workers, abused, tortured and exploited children, children indulging in substance abuse, children affected by HIV/AIDS, children affected by natural calamities, emergencies and manmade disasters, children with disabilities and children suffering from terminal/incurable diseases.

There are several Constitutional Provisions of Children that includes Article14, Article 15(3), Article 21(A), Article 23 and Article 45. The National Policy for Children, 1974, enactment of a uniform Juvenile Justice Act in 1986 which replaced by the enactment of the Juvenile Justice (Care and Protection of Children) Act, 2000 (JJ Act 2000), which replaced the Juvenile Justice Act, 1986 and brought about fundamental changes in institutional child care structures and functions in India. The above Act was repealed in 2015 and the Juvenile Justice (Care and Protection of Children) Act, 2015 (JJ Act 2015) came into force affecting, inter alia, further changes in the existing institutional and non-institutional child care systems.

As regards global focus and actions on rights of children, adoption of the United Nations Convention on the Rights of the Child (UNCRC) on 30 November 1989 by the UN General Assembly could be termed as the most significant step forward for the well-being of children as it contains a set of universal legal standards for protecting and promoting "the Best Interest of the Child". It gives children their basic rights covering four main domains namely right to survival, right to development, and right to protection and right to participation. India ratified the UNCRC on 11 December 1992, reaffirming its commitments to standards of child care as prescribed in the Convention.

2015 was a significant year for child rights in India with the enactment of the Juvenile Justice (Care and Protection of Children) Act, 2015. Globally also, this was the same year when members of the United Nations adopted the Sustainable Developmental Goals to end poverty and ensure prosperity for all. With these developments, the post-2015 framework for child protection in India has attained a strong rights-based orientation.
Survey was conducted in July 2016, with (804) street and slum children in Kolkata, to study patterns of vulnerability and get a comprehensive picture of the causes involved. Of these children at risk, 310 children were from all 12 Protection homes funded by THF. The rest (494 children) were drawn from randomly selected sample of 201 families (out of a total of 433 families living in 13 wards of Kolkata).

Out of the 804 children, 65% were aged between 6 - 14 years, 9% were aged 15-18 years, and 27% of the children were below the age of six. 70% belonged to Hindu families, 30% to Muslim families and there was one child of a Christian family.

The analysis also revealed that 70% of the children were living with parents, 24% with a single parent, and 6% are orphans. Street children, deprived from a safe environment and adult supervision, are all vulnerable and at risk of abuse; in the case of orphans and those with a single parent who is engaged in work all day long, the risk of abuse increases. The study indicated that 19% of the children have been abused (these are reported cases, possibly the percentage is much higher) and that 74% of these reported cases are abuse by family members. Focus group discussions with those children who have been abused, and from examination of case histories of the children living in the Protection Homes, indicates that the incidence of abuse is higher where both parents are absent.

The Right to Free and Compulsory Education Act, 2009 (RTE) mandates that all children aged 6 - 14 years have the opportunity to go to school. This study has considered two sets of children of this age group – 302 children from Protection Homes and 291 (of total of 494) from street families. Analysis of the individual case histories of the children from Protection Homes revealed that only 48% were going to school before they came to the Protection Home. These children are almost all from the streets of Kolkata and Howrah. Calculations incorporating the data from the current situational analysis of street children indicate that 68% of the children (aged 6-14 years) going to school. This increase is due to the introduction of RTE in 2009. However, that still leaves 32% of the children who are not in school.

Many children are obliged to help with the family finances - 9% of children were working as child labourers and 3% begging on the streets. 21% were doing household chores and unable to go to school. 22% of the children were facing domestic violence regularly, living miserably with often no choice but to run away from home.

Analysis of family history (total families studied were 486 including 251 families whose children are in Protection Homes) shows that 65% of the parents / adult members are illiterate, 23% have primary level education (up to Class 4), 10% have completed upper primary (till Class 8) and 2% have completed at least secondary education. Parents do not give due importance to education, borne out by a scrutiny of the families' occupations - 47% are daily wage earners, 20% are domestic maids, 14% are guards/drivers/assistants and 6% are rag pickers. There are, on average, 5 members in each family. The survey reveals that 75% of the families earn less than INR 6000 (€ 92) per month and are considered as BPL; 23% earn INR 6000 – 12000 (€92 – 184) and 2% families earn more than INR 12,000 (€184).

An analysis of their income- expenditure pattern shows that BPL families spend 11% of their income on addiction, gambling and entertainment, while spending only 2% on their children's education. Families earning more, spend up to 12% on addiction, gambling and entertainment, whereas expenditure on education is even then limited to 4%. This indicates that the benefits of education are poorly understood and not given due importance.

To provide for such vulnerable, neglected children and ensure their overall development, HOPE close work with the local partner organizations and provide all resource to a safe environment and an integrative approach to all aspects of child care covering shelter, education, nutrition and health for their emotional, social, cultural and cognitive development.

One of the primary focus of The Hope Foundation is of Child Protection, where support are being provided to 11 residential Homes cater to the emotional, physical and psychological needs of children who are found abandoned, abused, orphaned or neglected. More than 1000 children (both boys and girls) have been supported through these Protection Homes. THF strongly believes protection homes should be the last resort for the children. Thus the organisation works closely with the families to build the capacity and restore children back to their families. THF supports the children to continue education and continue follow up.

THF works at the community level to protect the rights of street children and reduce vulnerabilities in the community. The organisation believes that if the communities and families can be strengthened to access alternative care (Alternative Care refers to the spectrum of services available to children whose parents are no longer able to provide adequate care) for children's education and protection, then children can grow up in their own families. The Family is the core unit of society and the major source of development of children and it provides nurturance, emotional bonding and socialisation. Child Watch project builds the capacity of the families and communities, provides alternative care to the children, and rehabilitates children addicted to substances. This project takes initiative to ensure that children are protected from work and exploitation. Naba Asha Project (Educating Children Living on the Street) aims to expand education access, improving quality and relevance of education.

A report on trafficking by Sanlaap in 2008 found that women and children are trafficked from Bangladesh, Nepal and Bhutan to West Bengal and vice-verse. The study also revealed that North and South 24 Parganas districts of West Bengal are the most vulnerable districts. HOPE has been partnering Halderchak Chetna Welfare Society (HCWS) in these 4 blocks in their community based anti-trafficking programme since 2006 to rescue trafficked victims from different states, rehabilitation of trafficking survivor and also to build capacity of the community to prevent trafficking.