The COVID-19 pandemic has changed the world's understanding of vulnerability. Every person around the world became vulnerable to Coronavirus. India, a country with a population of 1.33 billion, was affected tremendously from the first day of complete lockdown on the 24th of March 2020. People living on the streets and slums, as well as daily wage labourers lost their jobs immediately. Moreover, huge numbers of migrant labourers, who became unemployed and homeless, returned to their native homes on foot, walking thousands of miles. The danger of starvation and hunger meant survival was uncertain even before facing the real threat of the pandemic.

In response to the COVID-19 crisis, HOPE established Emergency Response Teams immediately after lockdown to distribute essential food items and sanitization kits and to provide primary healthcare services to those that had no access to food or medical support. The Emergency Response Team also rescued abandoned people. Secondary healthcare interventions were provided in Hope Hospital.

The uncertainty and vulnerability only increased when another disaster hit in May 2020. Cyclone Amphan caused great damage to the city of Kolkata and other districts including the Sundarban delta. HOPE reached out to people in dire need of food, clothes, and healthcare.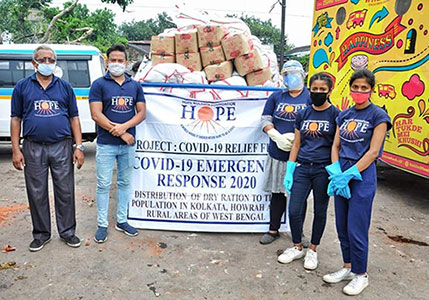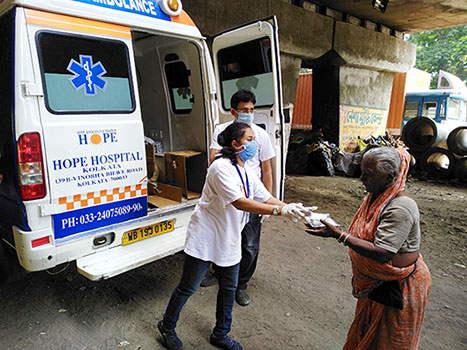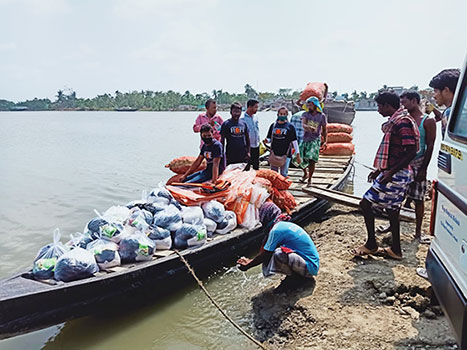 | | |
| --- | --- |
| Emergency Response Teams formed | 3 |
| Districts reached in West Bengal | 6 |
| Dry food packets distributed | 35587 |
| Hygiene kits distributed | 11144 |
| Tarpaulins distributed | 6430 |
| Solar lights distributed | 2362 |
| People provided with cooked food | 300 |
| Primary healthcare services provided during the relief distribution for street dwellers | 1681 |